Summer is here and what better way to beat the heat than to turn on your air conditioner or repair that air conditioner unit which has been sitting idea during the winter months. At Air Design, we want you to be informed about simple repairs or potential issues you can run into with your air conditioning unit and weather or not you need to call us (your local A/C repair company in Spokane, WA).
Installing an air conditioning system is difficult and involves loads of technical know-how. A little fault can lead to ruining your entire air conditioning unit which can make your summers really hot and humid and certainly more difficult to deal with. We don't want you to sit in misery while the heat takes over. Some basic fixes here and there can be handled at home without a hitch, however when it comes to repairing it completely or installing an A/C unit then it's advisable to get in touch with a heating, ventilation and air conditioning expert. There are many Air conditioner repair and installation services in Spokane who are always willing to come to rescue, but there is really only one that will do the most efficient and effective job quickly. They are both professional and provide the best services and one of the best prices.
How does an air conditioner work?
Operation of an air conditioner is pure science which makes use of basic principles of physics and chemistry. The 2 most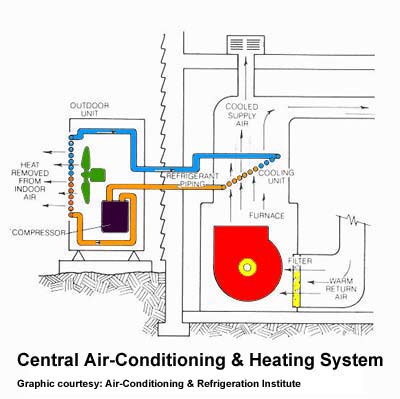 important parts in an air conditioner which forms the body and the head of the unit are namely the condenser and the evaporator. There is a bit of chemistry also which should be noted as Freon Gas is passed under high pressure through the heat exchanger which converts into liquid, then the same process is repeated with this liquid when it is allowed to pass into the evaporator thus converting into gas. In this entire process there is a lot of exchange of heat which is then cooled and blown out through the duct of the air conditioner. The heated gas which is released is once again condensed and the entire process repeats itself. Since the main units which are the evaporator and the condensers involve loads of techniques therefore any problem arising in these units calls for help and should be dealt only by air conditioner repair specialist in Spokane. However, there are several other components in the body of the air conditioner compressor such as the mesh guard, window panel etc. which should be cleaned regularly and maintained from time to time so that dust and debris does not accumulate. Accumulated debris can cause a restriction of needed air and will also cause overheating on your air conditioning compressor.
3 air conditioning problems which can be simply taken care off at home
Air conditioning unit does not turn on: If the air conditioner does not start by switching it on, then first check whether there is a problem in the fuse or the circuit. Secondly, check the level of thermostat, sometimes if the thermostat is too high then, it can lead to a short circuit. If none of them appears to be part of the problem, then try and raise the temperature by 5 degrees and then turn it on again about 10-15 minutes later. It's common to have your lines freeze up if you've turned your temperature too low. Most major manufacturers recommend keeping the thermostat temperature at 70 degrees and above. If still it does not work, then it time to get in touch with an air conditioner repair specialist in Spokane – Air Design!
Insufficient or no cooling: Another big problem with air conditioner units is that they may turn on but may not provide efficient cooling. In such a case again check the thermostat and try and raise the thermostat by 5 degrees. Secondly check the intake of the condenser. The air intake of the condenser may be blocked due to dust or other external particles. If everything else if fine, then check the exterior of the air conditioner, as the fan may be blocked or the window fins may not be in the correct position. If nothing helps then call an air conditioner repair specialist in Spokane to have a closer look.
Inconsistent cooling: For most of the problems in air conditioning, the condenser of the evaporator is typically to be blamed, therefore whenever there is something related to cooling, it's always wise to check the condition of the evaporator and the condenser, however both these units are sealed and is very difficult for a lay man to have a look at them and find a problem. In case of inconsistent cooling, it might be possibility that the unit is blocked due to accumulation of dust or vegetation due to moist climate. The concrete pad might break down which causes instability in the condensers position. This can unfairly change the level of the Freon in the cooling coils.
The problems named above are quite common and can be fixed by an experienced air conditioning tech. Because there are so many different reasons you're a/c might not be working as intended, it's advisable to get the air conditioner regularly serviced. People typically don't think about how important it is to since installing an air conditioning unit is expensive business, therefore it is wise to consider getting a maintenance service agreement which takes care of servicing and maintaining the air conditioner from time to time, by the experts. Air Design is the best company to consider when thinking about air conditioner repair services in Spokane, and they are willing to help you with your a/c maintenance agreement.
There are many professionals' contracts which do not charge for the first visit and hands over a rough estimate and there are some who charge for even providing an estimate. If you are sure of a particular service provider and are happy with their reviews then it's not a bad idea to buy a service contract from them. Do not compromise on the quality of the service in lieu of cheaper service. As there are many novices who are new in the market and are not too experience, they try to build in their customer base by providing large discounts and quoting low charges. We would also caution you to not always go with the highest bid. Be smart and ask questions. See which company is willing to give you the most information. Ask for an itemized bid so that you can see if there is a lot of mark up in the replacement parts, or not. You can be a better consumer who might not have to spend as much money to resolve your air conditioning repair if you're better informed.
Since an air conditioner is an expensive piece of comfort equipment you can't just hand over your asset to anybody who has very little knowledge about the service. It is your duty to conduct a proper research before taking a final word. Once you have finalized a contractor and have your task completed, remember to take an invoice as a proof and also a guarantee for any new parts which have been replaced. Other than all this, exercise your bargaining skills and ask for a discount. There are many air conditioner repair specialists in Spokane who offer a special discount to senior citizen. All you have to do is ask.
3 tips to keep in mind when hiring a local air conditioner repair company
Repairing or maintaining an air conditioning unit is not an easy DIY task, in fact it consists of technical know-how and in-depth knowledge of its operation. Therefore, it is important to find out whether the person or the company who is handling your repair and maintenance business of the air conditioner is qualified to conduct the task. Before hiring a company for air conditioning repair task, make sure to check their license to ensure that they are carrying out their activities in a legal framework. Check all the required certificates which are required to perform their duties. All companies who have a valid license and certificates would hire qualified staff and technicians who would ultimately handle your repair work, therefore it make a lot of difference to work with somebody who is established than somebody who is operating as a freelancer without any credentials or certifications.
Type of job: Before finalizing and fixing an appointment with the service provider make sure to inquire clearly whether they undertake the desired repair work. Not all air conditioner repair specialist in Spokane undertake all kind of repair or service work. Some only take care of commercial air conditioning units and some only deal in repairing particular problems. It would be wise to call them, speak to them on the phone, visit their website or shoot an email to be sure of the fact that they would be able to take care of the required repair work. Since most of the air conditioner repair specialist charge for a rough estimate when they visit for the first time therefore if you haven't told them specifically about the maintenance or the repair work to be carried out, they would still charge for their visit no matter what.
Price: One of the major factors which effects your decision of choosing a particular service provider is the price. Service should always come first, even before price however; everybody needs to keep a strict watch on their pocketbook. It does not seem worthwhile to spend more money on repair or maintenance than the actual cost of the entire unit. Before finding a service or a service provider it is advisable to conduct research of various air conditioner repair companies in Spokane. Based on reviews and feedback, choose the one which charges the minimum price with maximum quality.
Read online reviews: When we talk about conducting research and doing your homework well, it means that you should browse through the company's website and see what all services do they provide and what they are good at. Nowadays it's common for customers to leave a feedback or a review of the service they received, They are genuine most of the time, so it should help you get an idea about the HVAC service provider. If there are more positive reviews than negative reviews then you can think of hiring the repair company and vice versa. While reading through the reviews also keep in mind the time taken, attitude towards work, professionalism etc.
Nobody likes to have issues with their air conditioner, especially those of us who reside in Spokane, WA. We're hoping that we can help you with some simple tips and ways you can help yourself. Of course, if you need the professional (that's what we think), you should give Air Design Spokane a call. It would be our pleasure to help make sure your summer is a little more comfortable with a nice, well maintained, efficiently running air conditioning unit.
Save