If you're like most people who are at wits end with their heating and cooling problems, then read on. We're trying to help. You'll find a few tips to help diagnose when it's time to call your local Spokane Air Conditioning repair company. Although most people are thinking of their heating systems during the winter months, air conditioning is also important to consider. When installing a new furnace or heating system, make sure the air ducts you have are also set up to work with your air condition system. Using the ducts for both heating and cooling is the most economical choice.
Every spring you should clean the coils and fan blades on your air conditioner unit. First, turn the power off so nothing moves when you're working with it. Though keeping a HVAC system up and running at all times is one of the most fundamental tasks a homeowner has, not everyone knows how to do it well.
Things To Consider Before Hiring A Spokane Air Conditioning Repair Company
Being able to pick a good Spokane air conditioning repair company to fix your system is the best thing you can do when you run into a problem. Seeking the help of professionals or experts will not only save you time and money, but also frustration and potential injury.
You need to know what system you have. You need this information to tell your HVAC professional. We've found that it's best to write down the make, model, and any maintenance history you've had in the past. This helps make sure the contractor has the information they will need to do their job right.
Get It In Writing
Any time you get a quote or estimate, always get it in writing. You have no recourse on a verbal agreement, so a written contract is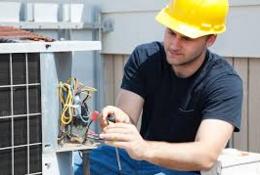 a must. This will allow you to follow-up if something goes wrong or you don't get what you were promised.
Look For The Details To Inform Your Professional
If your air conditioner starts to act up, take a quick tour of the house prior to calling a professional. Figure out which rooms are too cool or warm. This helps the ac repair company to diagnose potential problems and knowing how big or small they might be.
Look At The Outdoor A/C Compressor
One of the most common problems are blocked or covered air conditioning condenser units. Spokane is well known for the amazing trees, bushes, and plants that we're able to grow. Keeping the outside condenser clean of debris and leaves will improve the system's cooling and energy efficiency. As you notice the trees begin to lose their leaves, keep an eye on your air conditioner unit. Be sure to regularly clean debris from external condenser units. You can never tell when things will pile up, especially following rain or wind storms. These can cause havoc on your air conditioner unit. Overheating can occur, which often spells disaster for your system.Make sure you are cleaning the fan grill often. Your fan needs an unobstructed way to get air inside, and the more blocked up it becomes, the more headaches will develop for your system. It's important to make sure your air conditioner is off and potentially the power to your house is off before doing more than cleaning, such as working on the unit.
Do You Hear a Clicking Sound When Your Fan Is Turning?
This may mean that there is something in the way of the blades of the fan at the top of the compressor. If it gets so bad that the blade bends, you must replace it. Just unbending it will leave the fan unbalanced and can cause further problems. That's the last thing that you want!
Your Air Conditioning Is Out, What Can You Do Until It's Fixed?
If you want to make your home feel better in the summer without using your air conditioning on high, consider installing fans in your home. An attic fan can blow hot air out while sucking cool air into your basement. Ceiling fans help distribute the air in your rooms evenly and are a good alternative to consider for a heated room. Remember that most ceiling fans will be able to spin both clock-wise and counter clock-wise. Depending on which way the fan blades are spinning will determine if you have air blow down on to you, or up to the ceiling to help evenly regulate temperature.
Does Your Air Conditioning Repair Company Stand Behind Their Work?
When you are looking for a service provider on your HVAC system, look for a company that stands behind their work. Companies that talk about their customer service and then back their work up with a guarantee. This is especially important if your compressor or condenser is being repaired. We don't mean to brag or anything, but when it comes to professional work and customer service in the Spokane area, you won't find better than Air Design.
How Often Are Your Checking Your System?
Make sure you have your HVAC system checked at least twice a year. The recommended time for HVAC system inspections is once before the peak cooling season when it gets hot and once before the peak heating season, during the cold months when you're likely to be using your heat. There are a few key things that will be checked when a professional comes around such as fittings, checking for leaks, making sure your freon levels are good. Even if you don't think anything's wrong, it's still worth an inspection. Everyone knows the saying "An ounce of prevention saves a pound of pain." This can ensure your unit is working well throughout the years without the high cost of emergency repairs.
In the summer months, don't let your home get too hot to where it's dangerous. Based off of building codes in Spokane, air conditioning units are designed to only able to reduce the temperature by about twenty degrees. This is only a figure and will largely depend on your furnace fan as well as the insulation in your home. If your home becomes 100 degrees or more, it will only cool off to about 80 degrees. Anything over 76 degrees becomes an unhealthy and unsafe environment to be in for very long.
What Do My Windows Have To Do With My A/C Unit?
New window technology has come a long ways with heating and cooling of your house. Single-pane windows have been replaced
with double-pane. This means there are 2 pieces of glass you're looking through versus just 1. There is a special gas that is inserted between the 2 panes of glass that cut down on heat transfer from inside out and outside in. Very effective and they help with your heating and cooling efficiency. Consider replacing any single-paned windows with double-paned versions. Double-pane windows can help minimize how much you use your air conditioner in the summer, because they keep cool air inside the home. When it is cold in the winter months, these same windows will keep the warm air inside.
Digital Thermostats
Installing a programmable digital thermostat can help save money in many ways. These newer types of technology in thermostats are not only more accurate, but allow for programmed times to adjust air temperature based on a schedule. In fact, you can save as much as 20 percent on both heating and cooling when you adjust your thermostat by 10-15 percent for at least 8 hours daily.
Also, you'll find that you can program your thermostat from a computer or anything connected to the web. At Air Design, we offer several different types of smart digital thermostats. One of the ever popular smart thermostat is the Nest (by Google).
If you don't have a digital or programmable thermostat, turn off your air conditioner when no one is home to help save money. With the system off, the house will only heat up to a certain temperature that you specify. Leaving your heating or cooling running full blast while you are away is a waste of money and energy.
Research The Companies You're Considering Calling For HVAC Troubleshooting
Are these guys any good? How will you know if they are not just some "red-neck" quick fix with duct tape? Check out reviews online. Find companies who have more than just a couple of reviews that say positive things. Nothing is more accurate than a lot of people who have already had experience with your company.
Check with the Better Business Bureau (BBB) and look for reviews of potential companies online in order to make a smart decision.
While price should be one of the considerations you make when you are hiring a HVAC contractor. Do not allow it to cloud your judgment. There are other factors that need to be considered in order to make a sound decision for the best Spokane air conditioner repair company.
Experience level, work ethic, and years in the industry are a few things that should also consider.
Did you know an AC unit can freeze?
The drain line can occasionally freeze, which can be misdiagnosed as a plumbing leak. If you see this, try switching your thermostat to just the fan for about 20-30 minutes so that it disables the compressor. This will run fresh (warmer) air over the frozen lines and thaw them out. You may also find that your air filter is clogged and not enough fresh air is able to go over the freon lines causing them to freeze up. Once you know the problem, contact a local HVAC professional and let them know what's going on in your system. This can also be caused by turning temperatures too low for an extended amount of time. It can also be caused by having too little freon in the system.
We advise you to look for calculators online to help you determine the size of unit you need for your home. If you buy something too large it won't be efficient as it cools the same. Read over the owner's manual to see the manufacturer's suggestions as to the cooling capacity of the unit for the most accurate information. You need to check your windows and outside doors to make certain your HVAC runs well. Your windows and doors should all be tightly sealed. Talk to a professional to determine the best way to do this.
If you feel like you are spending too much money on your heating and cooling, there is a simple way to reduce this cost. Raise or lower the temperature depending on the season.
Other things to consider with Air Conditioner Repair Spokane
You can usually have free duct testing performed if you are concerned about your HVAC system not running properly. Contact Air Design in Spokane and we can run a free test for you – it's part of our service. When you repair the leaks, you'll see that the repairs paid for themselves in utility bill savings.
Choosing The Right Air Conditioning Company IS Important!
As you can see, it's important to pick out the right HVAC Company for your needs as you will may need professional assistance. The best companies out there have technicians that keep a schedule and their appointments. They should be able to diagnose issues quickly.
Once the technician figures out what's wrong, they can help resolve the problems in a timely and cost-effective manner.
24 Hour Phone number for Spokane Air Conditioner Repair
When you need to find a contractor to handle your HVAC work for you, make sure that the one you choose has a phone number they will answer 24-hours per day. Our number to call is:
A working HVAC system is crucial for a comfortable home. If you don't know what you're doing, a breakdown can cause you a lot of trouble and discomfort.
If you have any concerns about the efficiency of your home or how to save money on your heating bills each month, please contact us and we'll be happy to speak with you.
Save