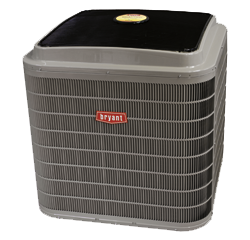 For a professional diagnosis, contact Air Design Heating & Air Conditioning. Your certified Air Design technician and Air Design sales professional will provide expert service and advice, from total system design to unit replacement. We'll tell you if the unit you have is worth the repair or part replacement, or if you would benefit most from a new, more efficient air conditioning unit.
Tip: When replacing an air conditioning system, make sure it's compatible with your existing units. You can use this checklist to help determine if it's time to replace your air conditioner or heat pump.
Questions To Ask Yourself:
Repair Cost
You might think a few AC parts or a new AC compressor will do the trick, but if the cost of repair is approximately 30 to 50 percent of the estimated cost of a new unit, replacement probably makes sense. Also, if your equipment has been prone to problems or you have reason to expect problems, replacement may be in order. Also, new equipment is likely to be a better bet if you own R22 equipment, which has been replaced with Puron refrigerant.
Warranty
Consult the Terms and Conditions of your equipment warranty before making repair or replacement decisions. Generally, replacement parts fall under the original warranty, so they are only warranted as long as your original warranty is in effect. Repair labor is often not covered by your warranty.
Equipment Age
How well your equipment ages depends on how well you maintain it and the operating demands you place on it. In general, if your heat pump is over 8- to 10-years old, it's best to replace.
Moving or Staying
If you plan to move in the near future, repair is often the best choice. However, if you plan on staying in your home, it's wise to invest in an energy efficient heat pump system that has the capacity to heat and cool your home efficiently and cost effectively.
How Well Is Your Existing Equipment Working
Are your electric bills too high? Does your system keep your home cool enough?
Thermostats
With our wide range of dependable programmable thermostats, non-programmable thermostats and zoning thermostats - including our award winning Evolution® Control, you have total control over temperature, humidity, air treatment and timing.
Questions To Ask Yourself:
Bryant Evolution
Our Top of the Line Thermostat Programmed for Fool-Proof Ease. The Evolution® Control thermostat simplifies home comfort with 7-day programming of temperature, humidity and air quality. Large-button, easy-read screen, multi-zone settings and optional remote access assure superior performance.
Bryant Preferred
Offers the latest in slim, pleasing aesthetics to enhance any room, and it makes programming a snap. You can plug the optional ExP® memory card into your computer's USB port, or open the face and use the easy-to-understand buttons.
Honeywell
VisionPRO 7-Day Programmable Comfort System controls temperature and indoor air quality products from one control. Easy-to-follow menu driven programming. Touch screen with smart change/check reminders on air filters, UV bulbs and humidifier pads.
Lux Pro
A full line of over thirty programmable, digital, and mechanical thermostats. Each and every one is designed to be a reliable, simple and precise part of our customers' lives, so that everyone can enjoy the benefits and comforts of advanced temperature control.
Bryant Zoning
Digital thermostats let you program temperature and humidity levels in 7-day cycles, variable in up to 8 zones. You'll enjoy both greater comfort and lower energy costs, all from a single, powerful source.