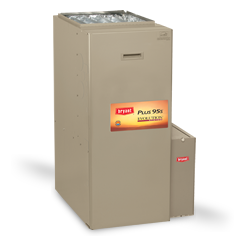 As your heating system ages, it can lose efficiency or stop working all together. At Air Design Heating & Air Conditioning, we provide the highest level of quality in all our installations, all jobs are performed by our highly-experienced installers. Trust Air Design with your next furnace.
Our heating services include:
Installation of Bryant equipment
Repair of all brands of HVAC equipment
Design support based on your individual needs
Oil to Gas Conversions
Post-Installation Inspection
Free Installation Estimates
We also offer Energy Star® rated heating systems, so you can save up to 30% on heating costs this winter while staying warm. Call today for immediate consultation from one of our heating system installation experts. We will patiently answer any of your questions and discuss every stage of the process to help determine your heating needs.
We offer a full line of furnaces (gas or electric), which range from 80% to 95% AFUE (Annual Fuel Utilization Efficiency). Our Bryant 95% Evolution furnace has Perfect Sense™ technology, Up to 73% more consistent temperatures than single stage furnaces, Pilot-free Perfect Light™ ignition, and quiet when it counts.
---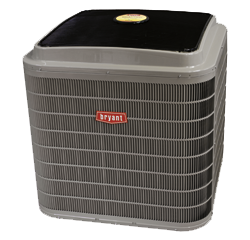 For a professional diagnosis, contact Air Design Heating & Air Conditioning. Your certified Air Design technician and Air Design sales professional will provide expert service and advice, from total system design to unit replacement.
Tip: When replacing a heat pump system, make sure it's compatible with your existing units. You can use this checklist to help determine if it's time to replace your air conditioner or heat pump.
Questions To Ask Yourself:
Repair Cost
You might think a few heat pump parts or a new heat pump compressor will do the trick, but if the cost of repair is approximately 30 to 50 percent of the estimated cost of a new unit, replacement probably makes sense. Also, if your equipment has been prone to problems or you have reason to expect problems, replacement may be in order. Also, new equipment is likely to be a better bet if you own R22 equipment, which has been replaced with Puron refrigerant.
Warranty
Consult the Terms and Conditions of your equipment warranty before making repair or replacement decisions. Generally, replacement parts fall under the original warranty, so they are only warranted as long as your original warranty is in effect. Repair labor is often not covered by your warranty.
Equipment Age
How well your equipment ages depends on how well you maintain it and the operating demands you place on it. In general, if your heat pump is over 8- to 10-years old, it's best to replace.
Moving or Staying
If you plan to move in the near future, repair is often the best choice. However, if you plan on staying in your home, it's wise to invest in an energy efficient heat pump system that has the capacity to heat and cool your home efficiently and cost effectively.
How Well Is Your Existing Equipment Working
Are your electric bills too high? Does your system keep your home cool enough?
---
Water Heaters
Aside from poor performance and high energy costs, many potential dangers can result from improper water heater installation. That's why choosing the right contractor can make all the difference. If your water heater is inoperable or in need of maintenance, our licensed expert technicians can often schedule an appointment and have the problem fixed the very same day.
When having your water heater repaired or replaced by Air Design Heating and Air Conditioning you can expect:
FREE QUOTES!
Option of LP gas and natural gas water heating systems
Delivery of new water heater
Removal and disposal of old water heater
Installation by licensed contractors
Post installation inspection
Post installation clean up
Project supervision throughout every stage of the process
Every safety precaution will be taken to prevent potential hazards in the future
Whether you desire a tank or tankless water heater, we can help you with your choice. Call the professionals at Air Design Heating and Air to schedule a heating system consultation now!